RECEIVE MY BEST HEALTH TIPS, RECIPES, AND MORE!
To receive tried and tested health tips that you can use immediately to improve your wellbeing, click « Subscribe! » here:
Mark your diaries –my September Learn & Brunch workshop focuses on detoxing
To be in the best possible shape this autumn, doing a simple detox is ideal. Why ? Because it's change of season and that's when the body naturally wants to get rid of toxins.
Why detox ?
The body naturally seeks to lighten its load of toxins and purify itself at this time of the year. Let's not forget our bodies do follow nature's cycles. So, by detoxing we simply optimise what the body wants to do. There are many ways to choose from – focusing on just one ingredient (usually fruit like apple or grapes), water or broth fasting or my way – lighter, alkalising food.
My autumn detox? Alkalising and rejuvenating
I wanted the detox to be simple to follow and very importantly to be alkalising because it's the best way for your body to rejuvenate its cells naturally and to do all this, amongst other things:
– Eliminate toxins easily whilst maintaining your regular daily and weekly routine. The cure is designed so you don't get to feel hunger and to feel too many uncomfortable detox symptoms.
– Give your digestive system a break by offering it simple and alkalising food. Truth is we tend to overload on acid-making food day in – day out. But don't worry, we'll make sure it tastes amazing, that's important for self-motivation!
– Quieten down those nasty symptoms that come with iffy digestion like gas, bloating, reflux …
– Free the energy required for digestion so that it can go deep to restore and repair any existing imbalances. That's one of the main goals of detoxing.
– And this last but not least benefit – detoxing does a general reset of appetite and satiety. Phew! One of the main reasons is that the veggies you'll be eating offer tons of fibre. Not only does it help your colon eliminate efficiently every day but it's also the kind of fibre that feeds the microbiome, i.e. the good bacteria that's not only in the intestines but actually in all systems of the body. Happy microbiome = happy body, mood, skin +++
How does a Learn & Brunch workshop run?
It's designed to help you learn concrete, actionable steps whilst eating delicious and healthy dishes and smoothies. You'll learn the kinds of rituals that actually transform the experience of detoxing.
« Thanks to the workshop I have made some changes in how I feed myself and I've lost 5 kg without frustration. I am delighted and most of all, I feel so much better » – Élisa C.
Your ebook – your complete detox protocol for whenever you are ready
The ebook has everything you need to know, from detox principles, activities that optimise elimination, the three phases – pre, during and post detox – menus and recipes, handy daily checklist and much more.
So, are you ready to reset your body in a friendly format?
Learn & Brunch workshop programme
How to make detox smoothies
Ingredients to choose and to avoid
Superfoods, essential oils and plants that make all the difference
Q&A and personalised attention
Healthy and delicious brunch
Your detox ebook
Mark the date in your calendar !
Saturday 22 September 2018, 12h – 15h00, at the shop Les Huiles 34b Rue Bichat 75010 Paris.
The price – come alone or use the duo offer
The price is unbeatable at 35€ per person or 30€ pp with the DUO offer.
Réservations et plus d'infos sur mon site ici.
Reservations and more info on my site right here.
Places are limited to 10 so do think about booking in advance.
Payment cash or by cheque on the day or by PayPal / credit card on the events page (no need to open a PayPal account).
For all questions or if you have intolerances / allergies, contact me on:
info@mariellealix.com
Or on +33 (0)6 40 69 64 37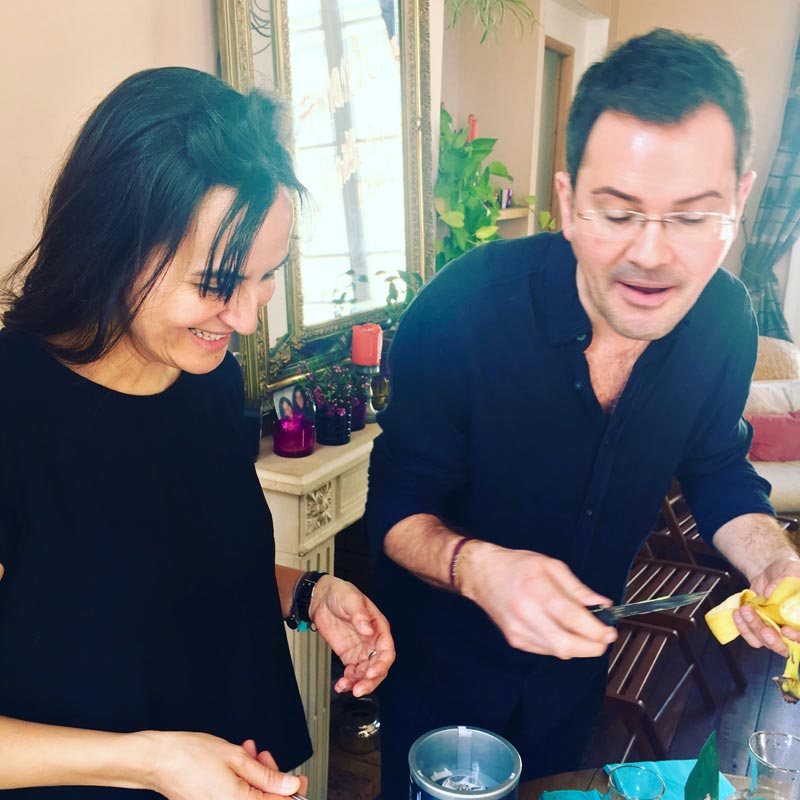 The next Reset Button Retreat in October for a special detox experience
If you want to take your detox to the next level, I'll be guiding you as your naturopathic nutritionist at the next Reset Button health retreat in Spain from 24 to 30 October. A great way to extend sunshine rays too !
All info is right here on le site Reset Button (en anglais), also in my blog here. And don't hesitate to contact me on info@mariellealix.com to ask your questions (and to find out my special offers too 🙂
Prefer 1-1 guidance to achieve your health goals?
If achieving your health goals just seems too difficult and you want to be held and helped with each step towards your dreams, then the first step is to book a discovery session. It's free. We'll talk about what you've tried, how you'd like to feel, and I will explain my made-to-measure approach. It's all about taking small steps, one after the other so you get to feel the difference in your body, not just the head.
Reserve your free discovery session right here
To your feeling and looking amazing naturally!
RECEIVE MY BEST HEALTH TIPS, RECIPES, AND MORE!
To receive tried and tested health tips that you can use immediately to improve your wellbeing, click « Subscribe! » here: